Over a century ago, two forward thinking roofers embarked on a journey of innovation and
engineering that
would redefine
the trade.
Today, we stand on the shoulders of these two pioneers, armed with cutting-edge CAD (Computer-Aided Design) and lean manufacturing technologies.
We have harnessed the power of fiberglass reinforced plastic's (FRP) to create a new era of equipment for transporting roofing and solar equipment on to rooftops -
lifters that are not only lighter and stronger but also non-conductive and non-corrosive.
Our commitment to innovation is unwavering, and the result is a lifter that drives up productivity while driving down labor and installation costs by more than 50%. We are proud to carry on the legacy of these early visionaries and continue to shape the future with state-of-the-art solutions, German engineering and a 2 Year Manufactures Warranty.
HERM Ultra-lite250 and Ultra-lite300
Lifting Solutions
[ Patent Pending ]
Model Size COMRESS
HERM11 11.6m/48.1ft Single to 2 Storie Building
HERM16 16.6m/54.5ft Single to 4 Storie Building
HERM21 21.6m/70.8ft Single to 5 Storie Building
At HERM, we believe in the power of advancing proven know-how with cutting-edge technology to redefine industry standards. We took a century old invention and reimagined it for the 21st century, propelling it into a new era of efficiency, productivity, and cost-effectiveness.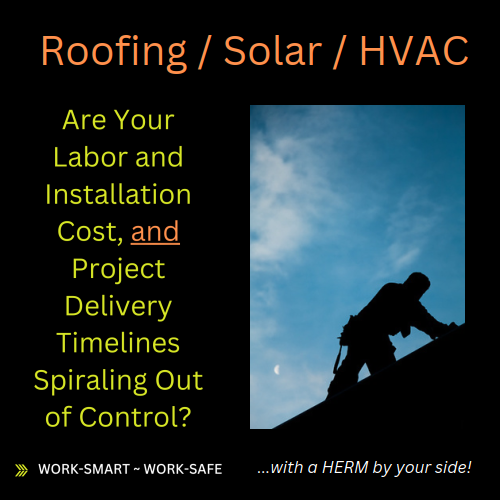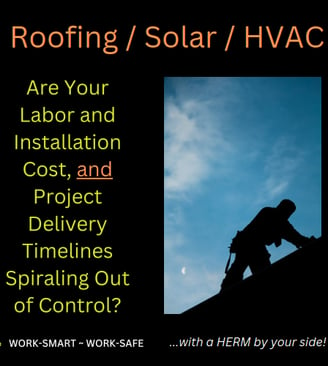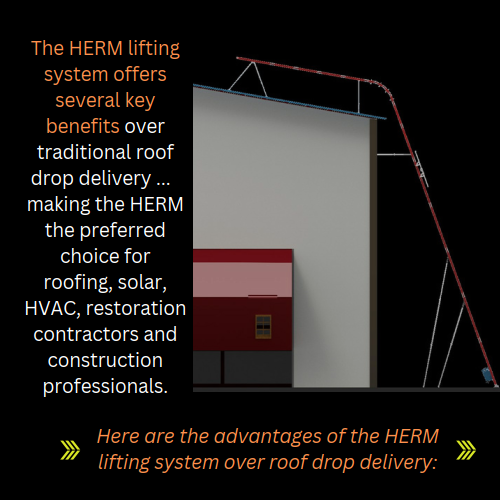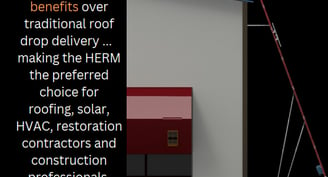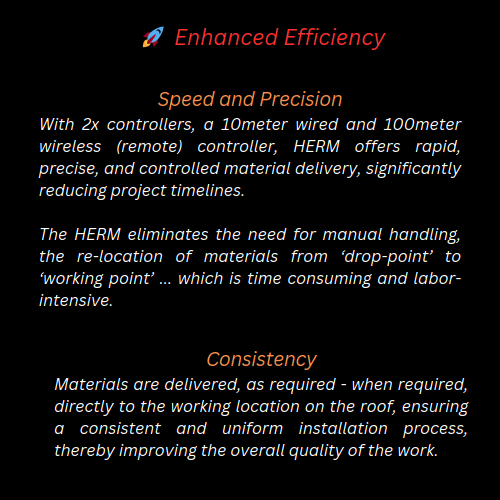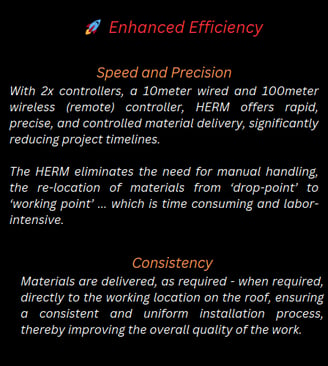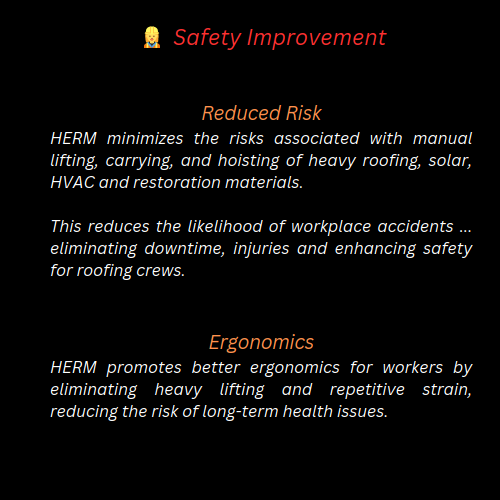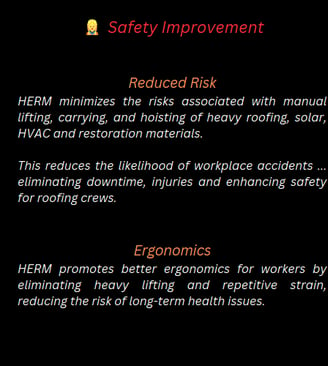 Manufactured to ISO 9001 Standards | German Engineering
Key Features | Non-Conductive, Non-Corrosive, Lighter & Stronger
Electric Winch. Power-drive is a 2kW/2.7hp motor is housed in an easy to transport (wheeled) 'plug-and-operate' safety box.
- Power Options: 110/120V 50Hz or in 230/240V 60Hz
- Lift Capacity Options: 250kg/550lbs or 300kg/660lbs.

2 Controllers: 10m wired and 100m wireless/remote with emergency Stop Button.

2 Limit Switches. Upper and Lower.

9 Spring Electromagnetic Brake System.

Wire Cable: 6mm anti-rotation cable. Grade 1960, 19x7 contract with load capacity of 5,5kN.

Base Module: Swivel footings and ground anchor points.

Lean angle indicator.

Eave/Curve Module (Proprietary design): This articulating module can be adjusted and set from 5/deg to 90/deg to match any roof pitch.

Ground, wall and rooftop supports to provide additional structural integrity.

Chassis is equipped with a 'cable break brake solution' in compliance with AS1418.8 / Cl 3.5.4. The chassis frame can be extended from 1.5m to 2.9m to support extra-long/large equipment.

Transport bin that can be used in Closed format for transporting tools, bricks, tiles, concrete/cement bags, etc., or in Open format for transporting roofing sheets, solar panels, ac systems, solar rooftop hot-water systems, timber/lumber, etc.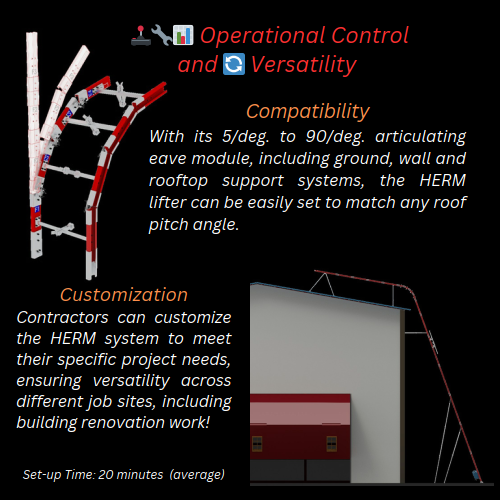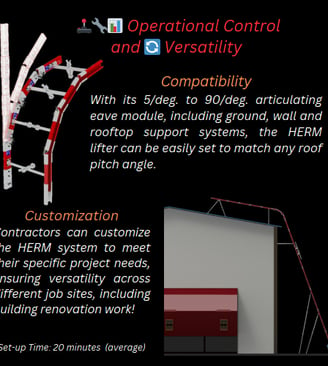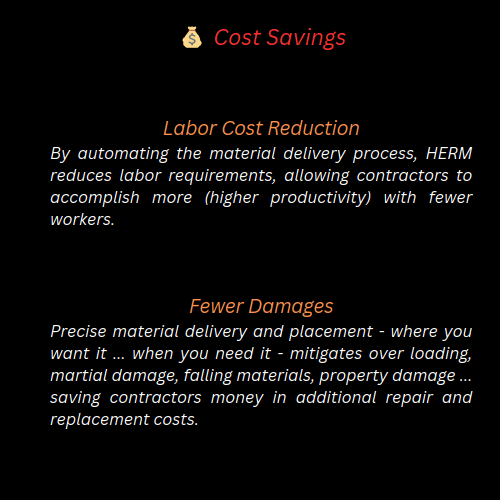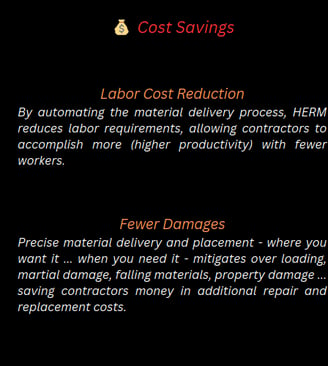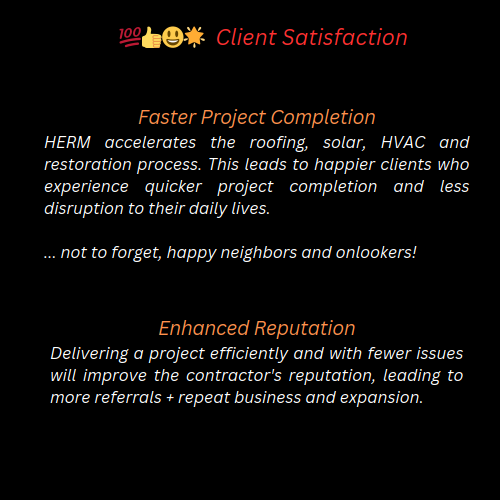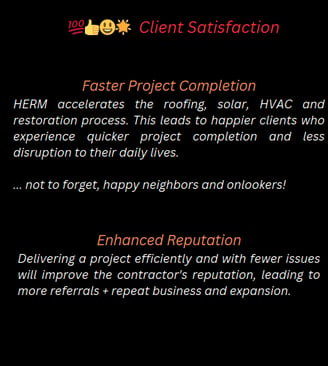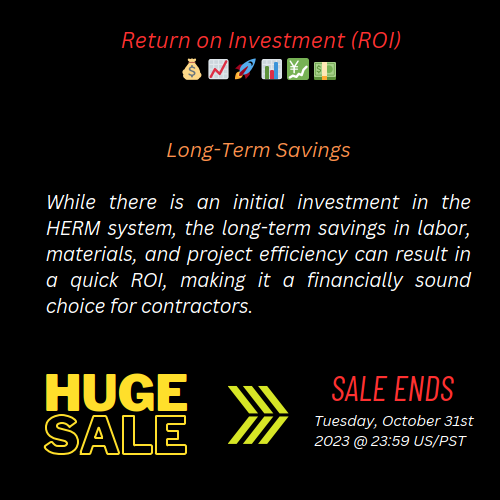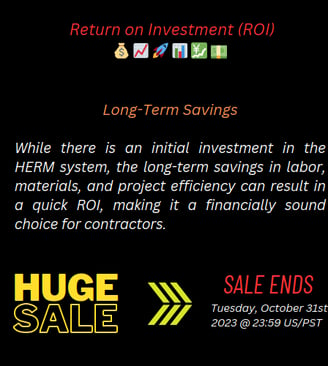 roofing or solar, this
96 second video will provide all the information you need to make an informed decision on Working Smart!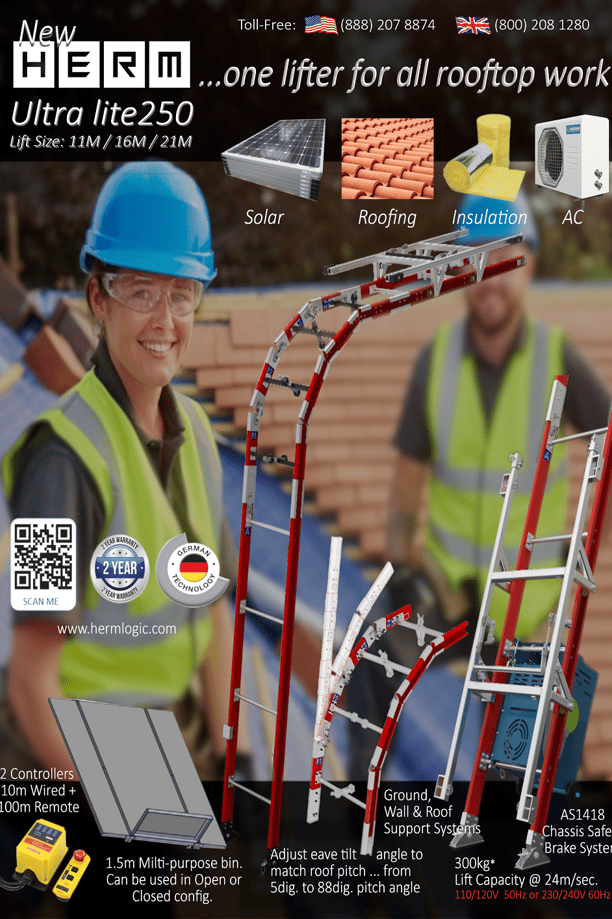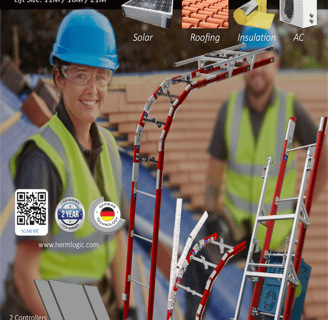 HERM Lifter: Mark/Mk2.7 (2022)
HERM Lifter: Mark/Mk2.0 (2021/22)
HERM Lifter: Mark/Mk2.4 (2022)
HERM Lifter: Mark/Mk1.0 (2018/19)
In this video, we explore the 'Risk & Issues' and compare the efficiency of the
HERM Lifter to transport 5x solar panels (weight: 150kg/330lbs) on to, and across the rooftop to where the installation is to take place ...
OMG ... while a contractor/laborer only manages to transport just 1x solar panel
to the roof-edge! - to the awaiting 2nd contractor/laborer
In this video, we explore the application of a 'Portable Power Generator'
at a remote industrial site.
In this video, James explains and demonstrates the operating features and the
engineering behind the HERM Lifter (Mk2.4/2022)
In this video, James is showcasing the HERM Lifter (Mk2.7/2022)
YouTube
video loading ... if not visible, "refresh" page
YouTube
video loading ... if not visible, "refresh" page
YouTube
video loading ... if not visible, "refresh" page
YouTube
video loading ... if not visible, "refresh" page
YouTube
video loading ... if not visible, "refresh" page